---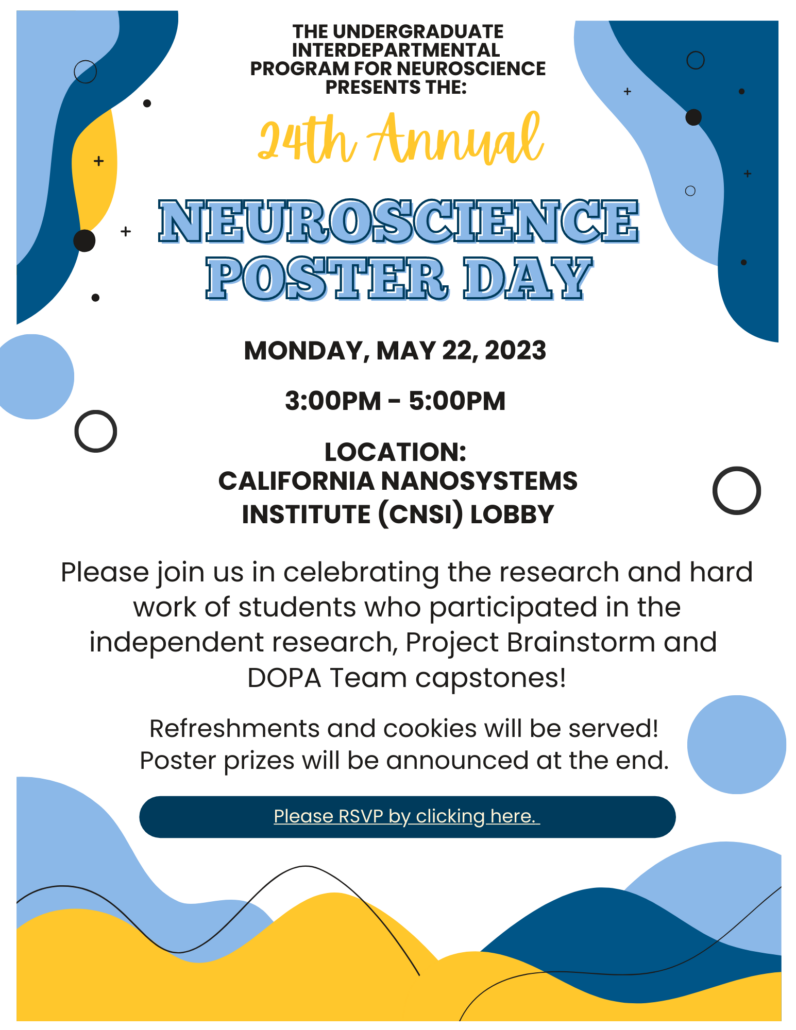 ATTENTION CAPSTONE STUDENTS:
As a participant in the major capstones: NEUROSC 199A/B, NEUROSC 198A/B, DOPA Team and Project Brainstorm, you are required to present at the Annual Neuroscience Poster Day. The poster day will take place on Monday, May 22nd from 3:00PM – 5:00PM in the California NanoSystems Institute (CNSI) Lobby. Please read this email carefully as it contains important instructions and deadlines.
Due to our growing major and research posters, we are splitting presentations in half. You will be emailed confirmation of the time you are scheduled to present in early May. While one group presents, you will be able to mingle with faculty, family, friends, and fellow Neuroscience students as we celebrate all of your hard work! We will have cookies and refreshments during the event as well.
Requirements:
1. Please fill out the Registration Link by Monday, May 1st at 12PM PST:
The registration link will ask for your availability. We will do our best to accommodate your preference, but please plan to block off the full two hours and stick around for awards recognition at the end.
2. Abstract
Please follow the instructions on the form below and submit it to this Bruin Learn website by: Wednesday, May 10th at 12PM PST
Please submit your abstract under the capstone you participated in. No email copies will be accepted.
3. Poster
The poster boards will be 4ft x 4ft.
Tacks and binder clips will be provided for you to use on the poster boards.
Another email in early May will be sent confirming the time of your presentation.
Poster Printing:
We have added two options below you can use for poster printing:
Project Brainstorm & DOPA Team students, please consult with your professors. NEUROSC 199/198 students please consult with your lab.
Resources:
Poster Presentation Workshop – Hosted by Dr. Stephanie White
Have questions about how to create a poster? Review the presentation slides from Dr. White's workshop and learn how to stand out!
Neuroscience Advising Virtual Drop In Hours
Have a question about the event? Talk to a Neuroscience Advisor!
TUESDAYS 9:00AM – 11:00AM: Zoom Link (Meeting ID: 990 8116 4475 / Passcode: NeuroW22)
WEDNESDAYS & FRIDAYS 2:00PM – 3:00PM: Zoom Link (Meeting ID: 920 1024 1489 / Passcode: Neuro1!)
---