Spring 2021 Dynamic Poster Session

Dear 2020-2021 Neuroscience 199AB/198AB and DOPA Team Capstone Students,
Congratulations on embarking on this stage of your capstone requirement! Similar to last year, we have adapted our Neuroscience Poster Day to meet the needs of our current remote circumstances – a dynamic poster session for Spring 2021.
 
Capstone students will create a PowerPoint presentation showcasing the work you did for NEUROSC 199AB/198AB and DOPA Team and record yourself presenting the slides. This presentation should be 5-7 slides and should last 5-7 minutes. You will upload this pre-recorded presentation to a CCLE site for our faculty judges to review.
If you qualify to present in this year's poster session, you will receive an e-mail from the Neuroscience advisors with the CCLE link and upload instructions. If you did not receive an e-mail, please contact us at neurosci@ucla.edu.

After the presentations are reviewed, the winners of the PowerPoint presentations will be invited to present their PowerPoint live to our Neuroscience community on Tuesday, May 11, 2021 from 5:00-6:30 p.m. PST.
 
Dr. White and the Neuroscience advisors held a departmental workshop that covered how to create and record the PowerPoint presentation. We will send it directly to all research capstone students and it is also posted below. No abstract is required prior to submission.
 
Your recorded presentation will need to be uploaded by Monday, May 3, 2021 by 11:59PM PST (CCLE site forthcoming). The live dynamic poster session Zoom will be held on Tuesday, May 11, 2021 from 5:00-6:30 p.m. PST.
We will share this information with your faculty mentors as well. Please let us know if you have any questions. Thank you!
Best,
Jaclyn & Aftin
Neuroscience Poster Day Departmental Workshop Video
---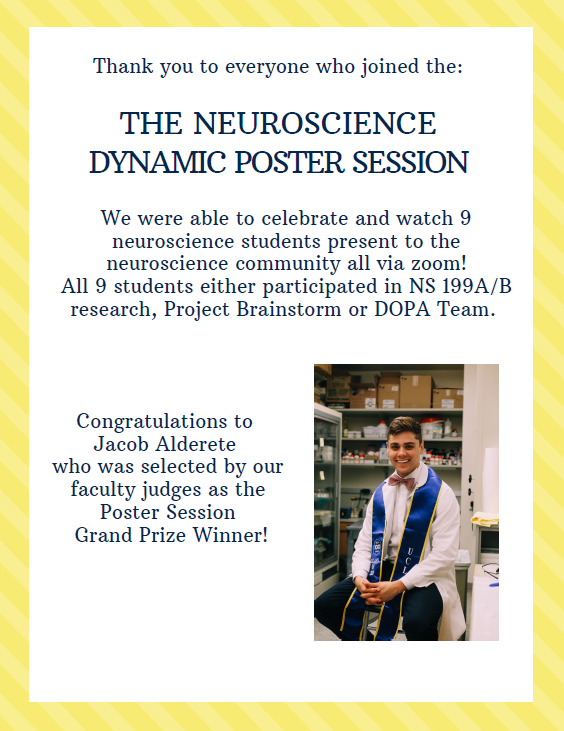 HOW TO CREATE A DYNAMIC POSTER SESSION BY DR. STEPHANIE WHITE ​