Dear Neuroscience Bruins,
Please stay tuned for for more information on 2021 Commencement. For students graduating this year (Fall 2020 – Summer 2021), you can use the following resources to help you prepare for your degree completion/graduation:
UCLA – A Guide to Graduation – 2021 (video)
UCLA – A Guide to Graduation – 2021 (PDF)
---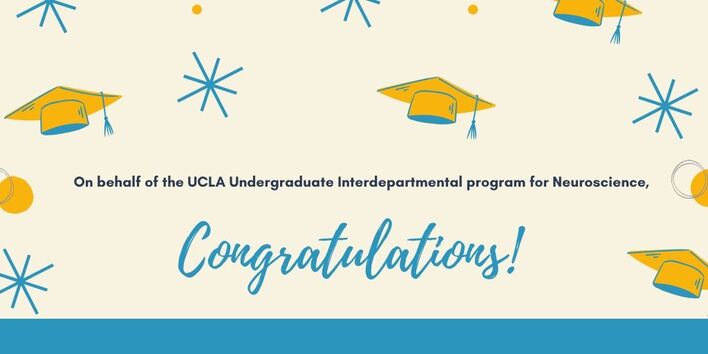 2020 Neuroscience Commencement Ceremony
Dear Graduating Neuroscience Bruins,
You did it! Congratulations once again on graduating from the UCLA Undergraduate Interdepartmental Program for Neuroscience! We are so extremely proud of you and cannot wait to see where life takes you next. We are also very happy to include details regarding the virtual commencement celebration both for Neuroscience.
Neuroscience Commencement:
Our program has worked hard with The College to create a specific Neuroscience commencement website. This website will have pre-recorded videos from our chair, Dr. Stephanie White, faculty, and the Neuroscience student organizations: NUS, Interaxon, and Crux. You will also have the ability to click through graduating student slides. You can think of this website as a "Choose Your Own Adventure" set up, meaning you have the ability to view the videos and slides as you please. If you have any more questions regarding the Neuroscience Commencement website, please see the attached FAQ page.
The website will launch on Saturday, June 13, 2020 at 2PM PST and you will be able to access it any time after 2pm.
You can find the link to the Neuroscience Commencement Website here: https://virtualgrad.marchingorder.com/ucla/xvii