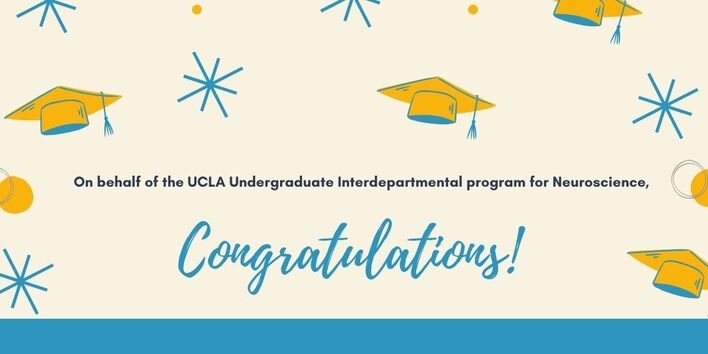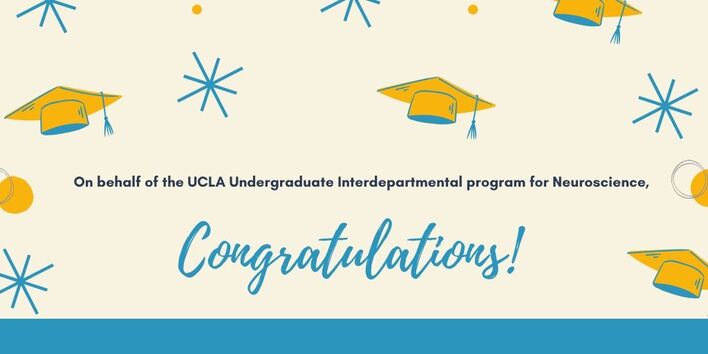 The 2023 Undergraduate Neuroscience IDP Commencement ceremony will take place on Saturday, June 17th, 2023 at 2:00 p.m. PST in Ackerman Grand Ballroom. Graduating students in the major and minor (Fall 2022 – Summer 2023) will receive more information about the ceremony from the Neuroscience Undergraduate Advisors. Please email neurosci@ucla.edu with any questions.
Students and their families can find more information about 2023 UCLA Commencement at these links: https://www.commencement.ucla.edu/ and https://www.college.ucla.edu/commencement/.
UPDATE: Due to the U.S. Open golf tournament taking place at the nearby Los Angeles Country club the same week as UCLA's commencement, the Events and Transportation office has worked with two nearby hotels to hold a limited number of guest rooms, available on a first-come, first-serve basis. Please follow this link for more information.
For students graduating this year (Fall 2022 – Summer 2023), you can use the following resources to help you prepare for your degree completion/graduation:
Graduation & Commencement – UCLA Center for Academic Advising in the College
Tips for Graduating Seniors – UCLA Registrar's Office
---
2023 Undergraduate Neuroscience IDP Commencement Ceremony FAQ's
Congratulations Class of 2023! We are so proud of you and this accomplishment! Please make sure you read through this document as it has important information and resources regarding the Neuroscience commencement ceremony.
Preparation for the Ceremony
What's the difference between "graduating" and "walking through commencement ceremonies"?

Students can graduate (completed all requirements for their degree) during any quarter of the year. Commencement ceremonies occur only once per year and you are invited to walk through these ceremonies whether or not you are actually graduating in Spring Quarter. This is the time for you to be publicly recognized by the university and your friends and family for your scholastic achievements. Participating in any commencement activities does NOT guarantee that you will actually earn a degree – make sure to confirm via your DARS that you have met all major and degree requirements.
Who can participate in the Neuroscience IDP commencement ceremony?

Neuroscience majors and minors who graduated in Fall 2022 and Winter 2023, and degree candidates for Spring and Summer 2023 may participate.
How do I purchase my cap and gown?

Orders for caps & gowns, announcements, diploma plaques and frames, Alumni Association memberships, and graduation gifts will start at the beginning of March (final deadline is April 7th). Visit them online at https://www.uclastore.com/students-graduation-resources or call 310.825.2587.
I have a privacy restriction notice on MyUCLA, can I still participate in the ceremony?

If you have a privacy restriction, you will still be able to participate in the commencement ceremonies. However, if you would like your name to be included in any of these materials for your upcoming commencement, please make sure to update your privacy restriction status in MyUCLA as soon as possible (https://registrar.ucla.edu/student-records/student-rights-privacy). Once you have done this, please send a confirmation to neurosci@ucla.edu so we can include you in our program materials. If we do not hear from you, we will respect your privacy request and not include your name in our commencement materials.
What do I need to submit to the Neuroscience Advising Office before the ceremony?

Graduating students will receive an email from the Neuroscience Advising Office with a short survey to complete. This survey will ask you for preferred name to be listed in the program, the phonetic pronunciation of your name to be read as you walk across the stage, and a brief personalized statement (20 words or less) to be read as you walk across the stage. Please be on the lookout for this email from neurosci@ucla.edu for more details.
Tickets
As the graduate, do I need a ticket for the ceremony?

Yes – please make sure to purchase a graduate ticket for the Neuroscience IDP Commencement Ceremony.
Will my family and friends need tickets for the Neuroscience IDP Commencement Ceremony?

Each graduate will be allowed a limited number of tickets. Four (4) tickets for guest will be complimentary for each student. Students may request to be added to a waitlist to purchase up to four (4) additional tickets for $20 each (the final number will be dependent on the venue capacity and tickets purchased – waitlist ticket buyers will be notified from a date to be announced).
When can I start ordering tickets for the Neuroscience IDP Commencement Ceremony?

Ticket ordering will begin on Friday, May 12, 2023 and conclude on Friday, May 26, 2023 at 11:59 PM PST. No tickets will be sold at the ceremony.
How does ticket ordering and payment work for the Neuroscience ceremony?

Graduates must order their own tickets and their guest tickets on MyUCLA. Graduates who are approved by the Central Ticket Office to purchase more than the four (4) complimentary guest tickets will be charged to BruinBill.
How will I receive my tickets?

All tickets for the Neuroscience Undergraduate Commencement Ceremony will be electronic.

Starting on Tuesday, May 30th, 2023 students will receive their tickets from tickets@cto.ucla.edu. Please be on the lookout for two emails:

One email will contain your graduate ticket.
The second email will contain your guest tickets.

Please make sure you check your spam folder for these emails. Tickets will be sent to the email listed in MyUCLA.
Neuroscience IDP Commencement Ceremony
When is the neuroscience ceremony?

The Neuroscience IDP Commencement Ceremony will take place on Saturday, June 17, 2023 at 2:00PM in Ackerman Grand Ballroom.
How long is the neuroscience ceremony?

The Neuroscience IDP ceremony lasts about 1.5 hours. Refreshments will be served after the ceremony concludes on Westcom Terrace.
What time should graduates arrive?

Graduates should arrive no later than one hour prior to the Graduation Ceremony (1:00 p.m.). Graduates should proceed to the Registration Table to check in. Graduates will then be directed to the Bruin Reception room to line up for the ceremony.
What time should guests arrive?

Guests should arrive at least 45 minutes prior to the graduation ceremony (1:15 p.m.). Guests will line up on the deck outside of Panda Express to enter from Westcom Terrace. Tickets will be scanned for entry. Guests will not be allowed in without a ticket.
What will I do after arriving at the ceremony location?

At the Registration Table, graduates will check in and receive a Grad Images card with their name. Hold onto this card and bring it up with you when you walk up to process across the stage.
Where do my guests and I sit?

Graduate seating: Graduates will sit in the first few rows of Ackerman Grand Ballroom, which have been reserved for the graduating class.

Guest seating: All seating is general seating, so please tell your guests to arrive early.
What will happen during the ceremony?

There will be remarks from program chair Dr. White, a short video, student speaker, and a processional across the stage. For the processional, you will walk across the stage while your name and brief personalized statement is read on your behalf by a Neuroscience IDP faculty member. Graduates will then return to their seats for the remainder of the ceremony. Please only get up when a staff volunteer tells your row to stand.
Can we take pictures?

Family members and guests will be able to take photos from their seats. GradImages will be at our Commencement to take pictures of the ceremony and each graduate. There will also be a reception afterwards to take pictures. Our official photographer for graduation is GradImages.
What do I wear?

Please make sure to wear your cap and gown to the ceremony. Please bring safety pins and/or bobby pins for your cap and gown just in case!
Is there a rehearsal?

No rehearsal will be held. After graduates are seated, they will be instructed on how to line up for processional shortly before the ceremony begins.
What about me or my guests with physical disabilities?

If you have a disability, or you are inviting a guest who needs special assistance to attend commencement, please call the Office for Students with Disabilities at (310) 825-1501 (voice), or (310) 206-6083 (TDD) ASAP to receive information about parking and other assistance at the Commencement. Students who have family members and guests who require wheelchair seating are encouraged to arrive early and will be directed to the ADA sections of the Ballroom. Please note that ADA sections are limited.

For the Neuroscience ceremony, if you will need help accessing the stage (there is a small staircase students ascend and descend at each edge of the stage), please let the Neuroscience advisors (neurosci@ucla.edu) know as soon as possible, so we can work with the venue to accommodate you.
Where do we park?

Students and guests attending 2023 Commencement ceremonies are able to purchase a parking permit online, anonymously, and in advance through the Bruin ePermit Event Parking portal beginning May 1st.

To avoid long lines at the self-service pay stations on campus, it is recommended to purchase your parking permit in advance of attending the Commencement ceremonies.To learn more about commencement parking, please visit: https://transportation.ucla.edu/campus-parking/commencement-parking
Where can I find other commencement information?