Undergraduate Neuroscience IDP Academic Advising
Jaclyn Robbin
Undergraduate Academic Advisor & Program Coordinator
Phone: 310-206-2349
Email: neurosci@ucla.edu
1321 Gonda Center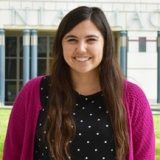 Aftin Whitten, M.S.
Undergraduate Academic Advisor & Assistant Graduate Program Coordinator
Phone: 310-206-4407
Email: neurosci@ucla.edu
1339 Gonda Center
Beginning in Fall 2021, the Undergraduate Neuroscience advisors will be working a remote/in-person hybrid schedule.
Advising sessions scheduled will be conducted remotely via Zoom and communication will continue to be shared through the listserv and on our website, but each advisor will also offer the option for in-person advising appointments on Mondays (Jaclyn) and Wednesdays (Jaclyn & Aftin), along with drop-in hours via Zoom on Tuesdays, Wednesdays, and Fridays.
​How do I schedule an advising appointment?
Neuroscience advising is by appointment only Monday – Friday and appointment scheduling information can be found below.
CURRENT UCLA STUDENTS ONLY: Please schedule an appointment with Aftin via aftinwhitten.youcanbook.me or Jaclyn via jaclyn1321.youcanbook.me .
For quick questions, please visit our drop-in Zoom hours: Advising drop-in hours will be held on Tuesday mornings from 9AM – 11AM and Wednesday and Friday afternoons from 2PM – 3PM. Please find the zoom information here:
TUESDAYS: Zoom Link (Meeting ID: 990 8116 4475 / Passcode: NeuroW22).
WEDNESDAYS & FRIDAYS: Zoom Link (Meeting ID: 920 1024 1489 / Passcode: Neuro1!)
For newly admitted students, prospective students, alumni, or other inquiries, please email neurosci@ucla.edu.
If you call or email with a question, please include your full name, your question, and University ID.
Neuroscience Mailing List
In order to best reach Neuroscience Majors and Minors, an online email distribution list has been created. It is every Neuroscience student's responsibility to join the Neuroscience Mailing List for important news related to NSIDP. If you are a Neuroscience major/minor and have not yet received an email regarding this list, please email neurosci@ucla.edu with your name and preferred email address. Be sure to add neurosci_undergrad@lists.ucla.edu to your safe list.